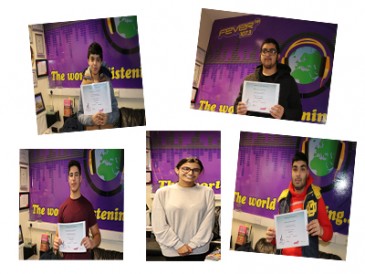 Congratulations to Fatima,Ahmed,Danny,Mustafa,Muhammad  for completing the #FeverOnFleek 
Take a read on what they thought of the 12 weeks workshop.
MOHAMED
Fever on fleek was a great experience I shared with a bunch of amazing class mates and
teachers. My fellow students were Ahmed, Fatima, Mustafa and Danyaal. My awesome teachers
were Imraano, Aaliyah and Khalida. These teachers helped me learn a lot about media and so did
my supportive peers. I was in a really good, fun environment and looked forward to going every
Saturday. Over the 12 week course I learnt a range of skills that I wouldn't have learnt anywhere
else like voice training, using their controls and using camera angles. I would like to give a
special thank you to Imraano for believing me when there was some skills I struggled to grasp
more than the other students and it paid off
and we both felt accomplished afterwards. Thank you Fever FM
Dhanyaal AKA DANNY,
To start off I knew that fever FM was a radio station and have listened to imrano's shows for a long time
now since the age of 13. But I never would've imagined meeting him in person and now that I finally
have its been awesome, he's funny and a great presenter and best of all an inspiration to all of us at the
fever on fleek programme. I have been attending the workshops for 13 weeks and learnt a lot about
radio presenting as well as the different aspects of it such as using your voice, editing videos,
prerecording and controlling the deck. I was nervous at the start but then after some time I built up
some confidence and improved. All the teachers khalda, imrano, Aliyah are all experienced in different
things within radio and helped us the students massively. We interviewed the gold medalist Olympic
boxer Qais Ashfaq which was amazing, he was a very nice person, we each asked a few questions about
his career in order to gain an insight in his day to day life as an Olympic boxer. Another person we
interviewed via telephone was Roach Killa a famous artist in the Asian Industry with many songs. Imrano
would also give us the opportunity to go on live radio which was also another way of improving my
confidence. The other students n my group who took part in the fever on fleek programme was me
Danny, Mohammed, Ahmed, Mustafa and Fatima. I had a very good time in these 13 weeks meeting new
people and interacting with others. The funniest part was when being on radio talking about random
things that had no relevance and Ahmed telling jokes including Mustafa getting overexcited and hyper
because of a football match. Overall my experience on this programme was exceptional and I loved it I
would definitely do it again an if I had the chance to. Furthermore, it opens a lot of doors for you to do
other things such as being a part of a self-development programme in order to impress yourself. On the
last day we went out on the street with a handheld microphone device and asked questions about brexit
and how people feel it will affect them. A big thanks to the sponsors JIMBOS FUND and LEEDS
COMMUNITY FOUNDATION, but not to also forget FEVER FM STUDIOS for this amazing programme.
?