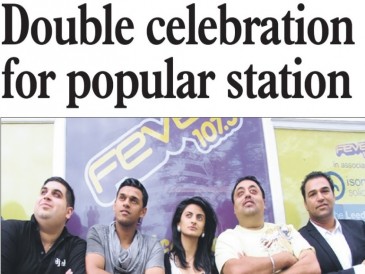 Moving on: Radio Asian Fever has a new licence and new premises. Pictured are, from left, DJ Desi, Imrano Maumoniat, DJ Harpz, Ranj Singh B and DJ Mal
THERE'S definitely something good in the air for a Leeds community radio station celebrating a double dose of good news Radio Asian Fever, based in Roundhay Road, as won a brand new licence from Ofcom to allow it to continue broadcasting for another five years after a successful first five years on the airwaves. And at the same time, the team is celebrating moving to its first custom-built studio, complete with £40,000 refit, just a few doors down from its old studio above a shop in Roundhay Road. Station manager Jabbar Karim, said: "It's a dream come true. "now that we have the facilities we are able to train people properly and give them technical knowledge like never before, Mr Karim, 48, started out as a pirate DJ 20 years ago and worked his way up the broadcasting ladder. His dream project was born in 2006 when he won a 24-hour broadcasting licence for Radio Asian Fever. He has now developed a reputation as a nurturer of broadcasting talent in Leeds and West Yorkshire. His station has trained 300 novice DJs in five years, and currently has more than 40 presenters - all volunteers - on its books. All started with little or no experience, and many come from low income and educationally low-achieving backgrounds.
The station's output aims to combat under-representation of ethnic minorities in the broadcast media. It also tries to improve community relations by celebrating South  Asian culture, bringing it into the mainstream and building bridges between communities. Listen in on 107.3FM or online at www.radioasianfever.co.uk.